5 Ways to Keep Your Family Safe During a Snorkeling Trip
5 Ways to Keep Your Family Safe During a Snorkeling Trip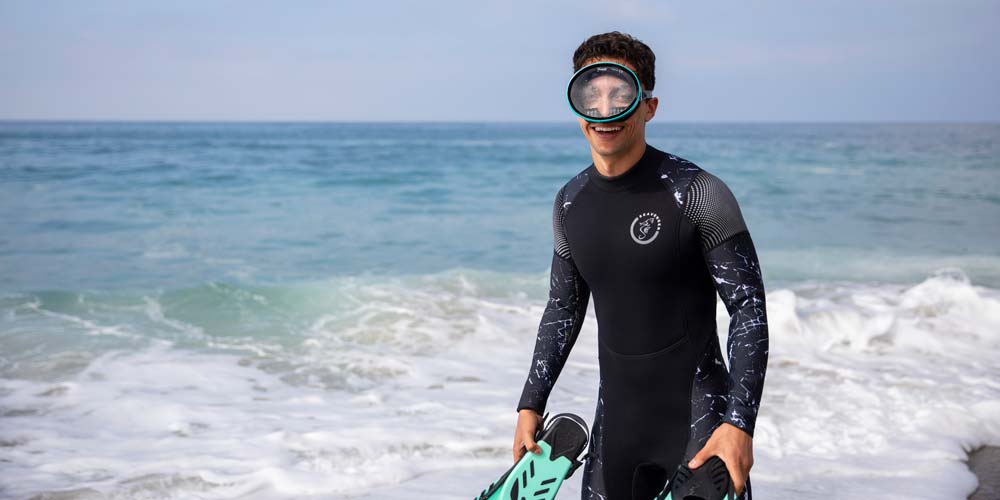 There is a reason people continue to travel across continents to snorkel, and it is to explore the entire world in the ocean that very few of us get to experience. 
It's normal and exciting to want to share that time with your entire family, but after booking that trip to Hawaii or the Great Barrier Reef, there is a common question that parents start to have shortly after all the arrangements are made: is snorkeling dangerous?
The answer? It can be — if you don't take the proper steps to prepare you and your family for the adventure. 
Snorkeling is generally considered to be a safe activity, but there are always dangers that can occur out in the ocean that should be considered. Staying safe isn't difficult. It just takes a little awareness and preparation. 
To help get you there, here is a list of 5 of the best ways you can stay safe while snorkeling. 
1. Purchase Your Own Gear
One of the biggest problems new snorkelers run into is not being able to securely fasten a mask to their face. In the water, this creates visibility problems that can increase the likelihood of injury and dampen the snorkeling experience.
Many people choose to rent snorkeling gear at their destination. While it may seem like a better option to save baggage space, you can't always be sure that the integrity of the equipment you are renting is up to par. 
Straps may be worn out and stretched, and the glass may even be stained, scratched, or too corroded to see through. 
Opting to purchase your own snorkeling equipment rather than renting at the location you are snorkeling is the best way to ensure that your entire family gets the most out of the excursion.
2. Do Your Research
Jellyfish populations, harmful coral and aggressive fish are just a few of the dangers that you need to watch out for when snorkeling. Not every location has the same risks, so it is best to do some research on your destination specifically. 
Having a first aid kit handy or some ointment to help soothe jellyfish stings (which are very common in popular tourist locations like Hawaii, Australia and Japan) can make a huge difference if a problem does prevent itself. 
3. Think Twice About Full-Face Masks
Full-face masks are a relatively recent development in the snorkeling community, and there have been many reports of people not getting enough oxygen and showing signs of CO2 poisoning during their snorkeling sessions.
These masks also don't offer a way to equalize the pressure around your face, which means diving even a few meters deep could become extremely uncomfortable after small periods of time.
Choosing a standard mask with watertight ear cups  or even an oval single lens mask can help prolong your time in the water by keeping you and your loved ones as comfortable as possible.
If you or a family member insists on using a full-face mask, it is best to find one that has been developed with a mechanism to expel CO2 as you breathe naturally.  
4. Consider Your Overall Health
Snorkeling is one of the more relaxing water excursions you can participate in, but that doesn't mean you should neglect your own health. Conditions like asthma, diabetes, anemia, or high blood pressure can be problematic with strenuous activity. 
Take a minute every so often to evaluate how your body is holding up. There is no shame in getting out of the water for a few minutes if you need to relax or regain your footing. 
Bringing along floaties or inflatable tubes for children can help them worry less about straining their bodies and more on the scenery in the ocean. Since adults might be a little less likely to put floaties on their arms, life vests are a good alternative to help keep them afloat. 
If someone in your group does have a condition that could become a factor, it is a good idea to keep them around another adult. Which leads us into our next tip...
5. Stick to the Buddy System
Adventuring is always safer when you have companions to help you out if something goes wrong. The general consensus among the snorkeling and watersports communities is that you always go out with at least one other person.
This way, if something does happen, you or your family member aren't out on the ocean by yourself without a paddle. Keep children and younger teens with adults just to be safe or travel together through the ocean as a family or group.
After all, the best experiences you will have while snorkeling are those you share with the people closest to you.