Stocking Stuffer Ideas for Skateboarders in 2019
Stocking Stuffer Ideas for Skateboarders in 2019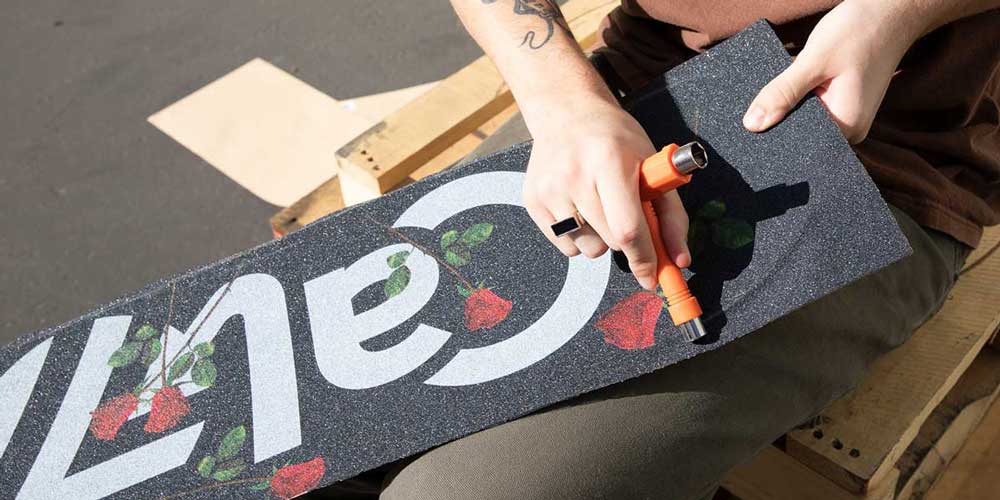 If you've never stepped foot on a skateboard, shopping for someone who has can be pretty daunting. Most skaters have insanely specific preferences ("I only ride an 8.3 board, not an 8.25"), and understanding all the nuances in different parts and accessories is like learning to speak Latin — so we've done the work for you. These are a few of our favorite things to find in our skate stocking on Christmas morning.
Skate tool. Having a skate tool is essential for anyone who skates regularly. No need to lug around a bunch of tools — just one piece to keep on hand for adjusting any skateboard setup.
Skateboard wax. One of those items that skaters can't get enough of, wax is a must-have, particularly for street skaters since it helps keeps those rails and ledges slick for grinds. Plus, they usually come in pretty funky tins and shapes, so they're a fun item to pull out of your stocking.
Griptape. While buying parts for a skateboard can be a dangerous game in other circumstances, griptape's one of the few that you can mostly get away with. Lots of skaters still have their preferences, but it's usually one of two or three major brands.
Stickers. This one might seem a little basic if you're outside the loop, but skaters consume stickers like water. They collect them, sticker-slap their decks, and stick them on light poles at street corners anytime they get a chance.
Hardware. Only buy skateboard hardware as a stocking stuffer if you know their usual setup. Some skaters put rubber risers on their board, which can extend the length of the bolts they'd need.
Skate t-shirt. If you're worried about buying skateboard parts and you'd rather go another route, a t-shirt from their favorite skate brand is a great route to take. Skating is a grimy sport, so they can never have too many clothes.
A beanie. If you don't live in one of the more temperate skate capitals of the world, having a beanie to skate during those winter months is almost as essential as the skateboard itself.
Bearings. While some skaters have a preference for bearings, they're all going to be the same size and work pretty much the same way. This is an easier piece of gear to buy, with the only major difference being the material (some bearings are made of ceramic, which you'll recognize by the price tag). Bearings are some of the most frequently replaced items on a board, so they'll never have enough stocked up.
Gift cards. When all else fails, get them a gift card to their favorite skate shop (and believe us, they definitely have a favorite). It's by far the most valuable and useful thing they could get.