Are Hostels Safe? 10 Myths Debunked.
Are Hostels Safe? 10 Myths Debunked.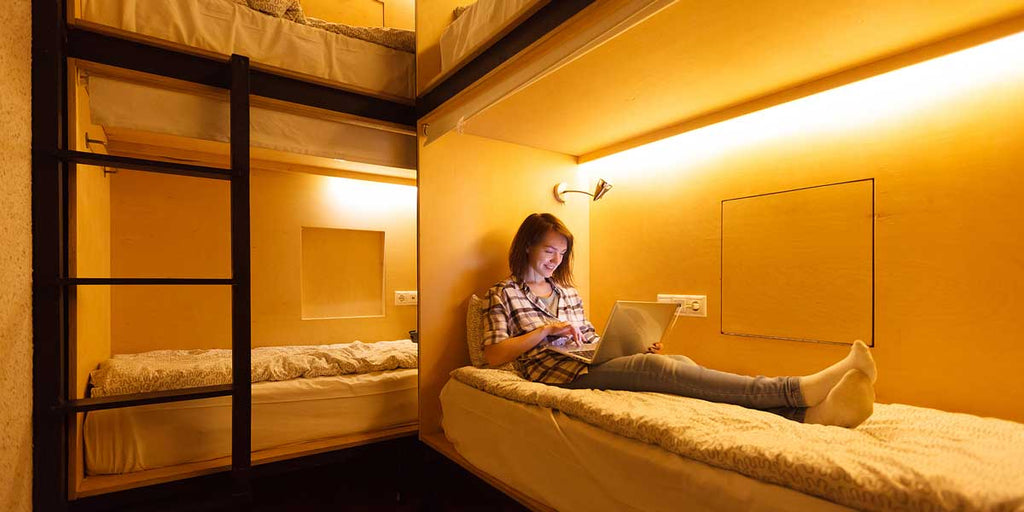 Thanks to the 2005 horror flick, hostels often get a bad rap. As holiday season approaches and many of us are thinking about how we're going to make the most of our Christmas vacation, you might be weighing the pros and cons of staying in a hostel. Luckily, our travel team has put together a list of all the common myths, so you can spend less time researching and more time traveling.
Hostels are Dangerous
Let's just get this one out of the way right now. Yes, something bad could happen at a hostel. But it could also happen at a hotel, or a fancy resort, or even your own home. In fact, some of the hostels we've stayed in have more security than a hotel. For example, a locked front door that requires a key to get in or keycard to even get into the hallway. Hostels take plenty of precautions to make sure you and your belongings are safe.
Hostels are Only for Young Travelers
Okay, we'll give it to you that most people staying in a hostel on any given night are probably under the age of 30. But by no means does that mean that you can't stay there. In fact, some of the best people we've met in hostels were decades older than us. The best part about this? You can learn from each other. Millennials can take a tip or two from older generations, and seasoned travelers might learn something new and exciting from younger explorers.
Hostels are Full of Hippies
Hostel guests are a little rougher around the edges sometimes than your typical resort neighbor. But it's not (always) because they're low on cash or don't care to shower more than once a week. More often than not, it's because they value the experience more than the bed they're sleeping in. And who can blame them for that?
Hostels are Dingy
This one couldn't be further from the truth. Hostels usually have far more character and excitement than a hotel. While hotels are simply a big block of quiet rooms — hostels tend to have more common areas, which foster community and growth and laughter. While there are always exceptions, many hostels are full of character and very well kept by staff who love travel just as much as the guests.
Hostels Have No Privacy
Hello, private rooms! While the dorm rooms are definitely more popular, most hostels also have private rooms available. They're nothing fancy, but offer more privacy than a full dorm room, and sometimes they even come with their own bathroom. Of course, this costs a little more money, but it's nowhere near the price of a fancy hotel room; plus you can take advantage of the hostel community without sharing a bedroom with 15 other people.
Your Stuff Will Get Stolen
We have never been to a hostel where there isn't some kind of locker or bin where you can keep your stuff safe. Your safety is their number one priority, so as long as you use common sense and don't leave your $500 camera sitting on your bunk, it's extremely unlikely that you'll have something stolen.
Hostels are Boring and Bland
If there's a "most ridiculous myth" award, it goes to this one. Hostels have more character and excitement than any resort anywhere. Many of them have special community events, like trivia or game nights, and still, more of them have some kind of bar or restaurant downstairs. Plus, not all hostels are in buildings. You can stay in tents, boats, vintage buses — hostels are full of charm.
Hostels are Only for Long-Term Travel
While hostels are awesome for backpackers and long-term travelers, they're also great for a weekend stay or one week visit to a new country. It all depends on your priorities; if you're hoping to never see a living soul and be in complete seclusion from the culture around you: then yes, stay in a hotel. But if you only have a few days and you're hoping to absorb as much of the local place as you can, then there's no better place to stay than a hostel.