10 Great Skateparks in California
10 Great Skateparks in California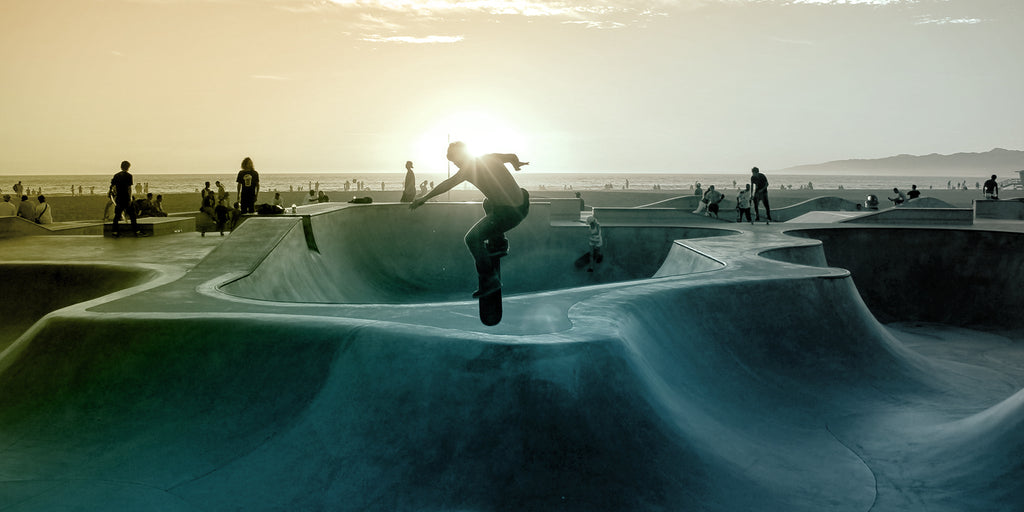 Sunny California has some of the best skateparks in the country. Beautiful weather and plenty of places to skate make skateboarding a year-round sport in the west. Home to many of the most innovative legends of the sport, California has a rich skateboarding history starting way back in the 1940s. Local surfers wanted something to do when the waves were flat, so "sidewalk surfing" became the newest craze. Empty pools and public sidewalks started to fill up with eager skaters. The skateboarding world as we know it today can be traced back to those humble beginnings. It's no wonder people come from all over the world to visit the amazing skateparks of California.
Venice Skate Park, Venice
This historic location is where it all started. The Venice Skate Park holds a special place for many skaters who are inspired by trailblazers from the past. Built right on the sand, this skatepark is located in one of California's most energetic beach towns near the famous boardwalk. Musicians, street performers, weight lifters, and unique characters all add to the exciting vibe. The 16,000-square-foot site features an elaborate street course with plenty of ramps, rails, steps, and flowing transitional elements. It's hard to beat the ocean view at this super cool skatepark.
Lake Cunningham Regional Skate Park, San Jose
One of the largest skateparks in the country, this massive 68,000-square-foot space has something for every skater. Built on the shores of Lake Cunningham, the mega-park offers a wide variety of terrain for all skill levels. The world-class Lake Cunningham Regional Skate Park features six bowls, a 22-foot cradle, an enormous vert wall, and the amazing 70-foot-long, 20-foot-wide full pipe. Whether you want to improve your moves or show off your skills, this place is a must-see for all skaters. There's also a large open skateboarding space for spectators and events.
Vans Skatepark, Orange
This indoor skatepark has one of the most well-known names in skateboarding. The amazing 20,000-square-foot Vans Skatepark features a massive wooden street course with plenty of stair sets, banks, rails, ledges, and manual pads, along with an 80-foot-wide mini ramp. An exact replica of the historic Upland combi pool is proudly showcased with 9-foot, 9-inch transitions and a 12-foot depth. There's also a warm-up course for people just starting out, along with an outdoor concrete street course with bowls and movable obstacles. Enjoy the elevated views and if you're lucky, you might catch a glimpse of your favorite pro at this cool skatepark.
Volcom Brothers Skate Park, Mammoth Lakes
This 40,000-square-foot skatepark is located at Trails End Park in beautiful Mammoth Lakes. The Volcom Brothers Skate Park features a great view with smooth concrete, a giant cradle, a Burnside wall, humps, lumps, an upper-deck flow section, a pro performance bowl, and a street section with a euro gap. There's plenty of space and options for all skill levels, including natural rock formations you can actually skate. Surrounded by mountains and mature trees, the atmosphere is a great place to enhance your creative energy. This skatepark is a must-see for anyone who loves skateboarding.
Tanzanite Skate Park, Sacramento
Plenty of options await you at this 16,000-square-foot skatepark. The Tanzanite Skate Park showcases a cool street section with multiple stair sets, ledges, and rails. The skatepark features a mini-clover bowl with 3-foot, 4-foot, and 5-foot sections, a large combi bowl with a 13-foot over-vert section, and an amoeba bowl with 5-foot, 7-foot, and 9-foot vert sections. The three bowls offer something for all skill-levels, from beginning to more advanced. Nestled among many other recreational parks, this site is surrounded by plenty of trees and walking paths.

Skatelab, Simi Valley
This exciting indoor skatepark was the first in America to offer ramps made of Finland birch. Skatelab has plenty of ramps, bowls, and rails for all skill levels. The 30,000-square-foot skatepark features a variety of half and quarter pipes, stairs, gaps, and boxes. You'll find more than a dozen quarter pipes, such as the 12-foot-tall Matix ramp. There's an additional 10,000 square feet in outdoor space with a 6-foot half pipe and a 2-foot mini pipe. The super cool Skateboard Museum located on site houses amazing skating memorabilia, including thousands of vintage decks and the Skateboarding Hall of Fame.
Granite Skate Park, Sacramento
Challenge your skills at this huge outdoor skatepark. At 45,000 square feet, the Granite Skate Park features an impressive eight bowls with depths from 3 to 15 feet for all skill levels. The bowls include a three-quarter pipe and coping that ranges from steel to pool coping. There's something for everyone, including a small combi bowl for beginners. The amazing street course winds all the way through the site and features granite, steel and concrete edging, boxes, stairs, and rails. Surrounded by plenty of open space, the skatepark includes a large plaza area in the center.
The Cove Skatepark, Santa Monica
Enjoy the blue skies of Southern California at this cool outdoor skatepark. The Cove Skatepark is home to many skateboarding legends who perfected their moves right here. The 20,000-square-foot location features multiple bowls, ramps, stairs, a pool with tile coping, an over-vert bowl, and the Douglas Park rail. The amazing street course has an old-school vibe that fits in perfectly with the historic setting. You'll find plenty of excellent bowls for beginning to advanced skaters. A nice place to show off your moves.
Magdalena Ecke Family YMCA Skate Park, Encinitas
This 37,000-square-foot skatepark was revamped in 2013 to include a smooth concrete street course with customized options. The Magdalena Ecke Family YMCA Skate Park features everything from an advanced-level pool to a Mini-Land for beginners. The options are endless with a kidney pool, clover bowl, and a street course with quarter pipes, ramps, pyramids, handrail stations, hips, and slider boxes. The huge 80-foot-wide, 13-foot-tall vertical ramp was used at the 2004 X Games. This skatepark has both a beginning and advanced section with plenty of transitions, banks, ledges, stairs, and rails for all skaters. You'll see plenty of people flock to this extreme sport mecca to improve their skills.
Etnies Skatepark, Lake Forest
This cool outdoor skatepark is the one of the largest in the country at nearly 60,000 square feet. The Etnies Skatepark features multiple bowls, a 16-foot-tall, 8-foot-wide cradle, and a street course with cool lines and plenty of room to skate. There are many options for all skill levels from beginners to advanced. An expansion was added to the original design to give the space more of a natural, organic feel. Before you plan a trip, you can check out all the skateboarding action in real time on their live webcam.