Why Water Shoes?
Why Water Shoes?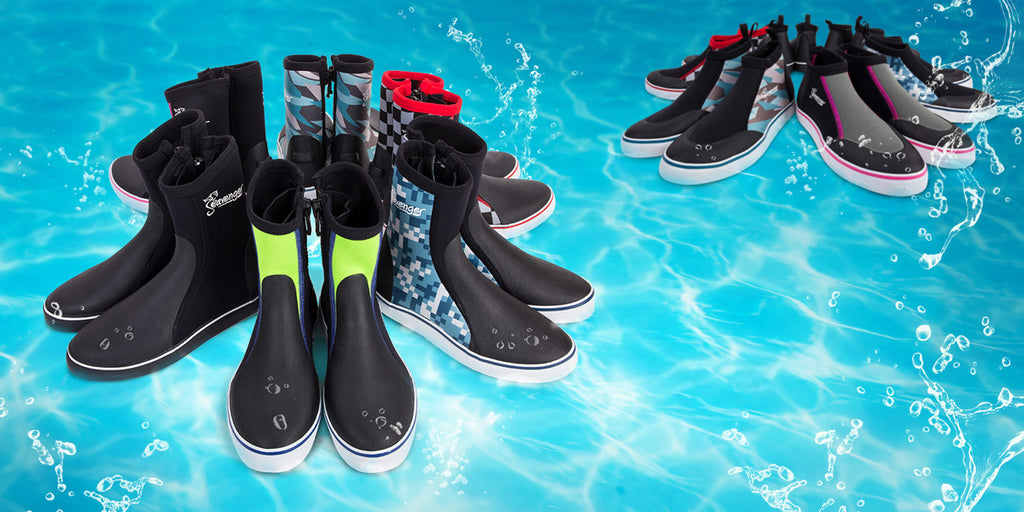 When it's time to grab some shoes and hit the water, whether on a stand up paddleboard, in a kayak, exploring tidepools on foot or hopping on a personal water craft, many people reach for their favorite sneakers. They figure that so long as it has a grippy sole, their regular casual sport shoe will provide enough traction on slippery surfaces to give a sure footing. However, there are several reasons why a dedicated water shoe is the better choice.
A Grippy Sole Is Just The Beginning
No matter how much added traction a sport shoe sole can offer, it will never rival a purpose-built water shoe for performance in wet conditions.
Because it's not built for water, a sport shoe isn't constructed of materials meant to survive repeated soakings. It's not uncommon to find the adhesives in your shoe dissolving in the water, or seams ripping open due to repeated expansion and contraction from absorbing and releasing moisture. The polyester, cotton and leather used in sport shoes will be prone to shrink or deform when it gets wet as well, but a water shoe is made of the same materials that go into wetsuits and rash guards.
Also, a sport shoe isn't constructed and engineered specifically to allow for easy water drainage and fast drying. During the design process for water shoes, every decision takes water into account. Using the right materials is key, but a water shoe must also be designed to exclude any potential pockets or multi-layered surfaces where moisture can pool or become trapped, ultimately leading to mold, mildew and bacterial build-up, or even rot.
A purpose-built water shoe doesn't just withstand water, it quickly eliminates moisture too. 
Today's Water Shoes Are Comfortable & Stylish
When they think of water shoes, most people picture pool shoes: footwear with a mesh upper, textured rubber sole, and drawstring or Velcro ankle closure. While that sort of thing is great for the pool, you don't have to settle for a pool shoe when your plans will be taking you to a lake, river or ocean.
The latest models of water shoe look a lot like a skateboard shoe, but without the laces. A low top water shoe will often employ a very stretchy ankle opening, and a high top will incorporate a chunky, heavy duty zipper. Apart from that, these next-generation water shoes look and wear much like your favorite sport shoes.
Designed to take you from water to shore, and in many cases doubling as dive fin boots, next generation water shoes keep you feeling secure in wet conditions and spare your sport shoes the aquatic wear and tear they were never meant to endure.
Here are some models to consider: