Skateboard vs. Longboard: What's the Difference?
Skateboard vs. Longboard: What's the Difference?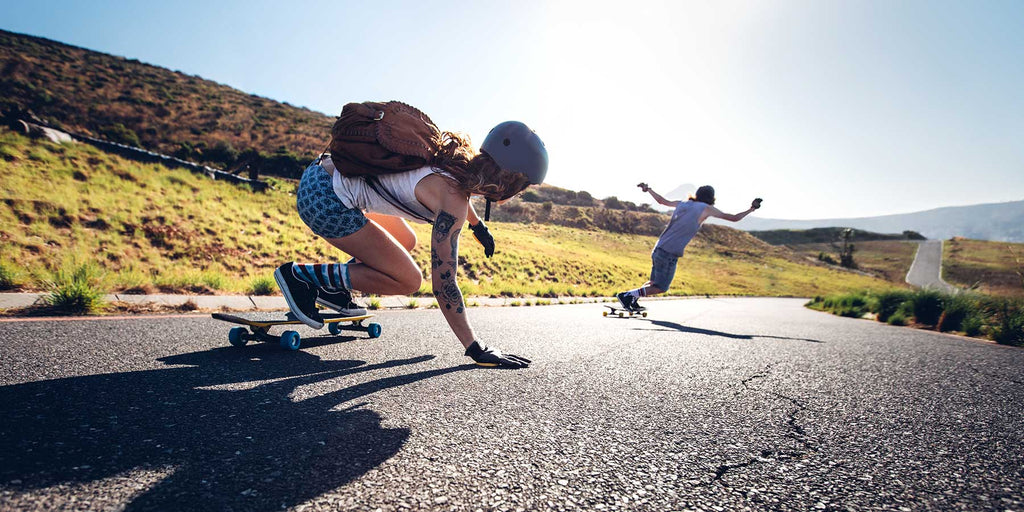 If you're just learning to skate for the first time, the vast array of board shapes and sizes can be really overwhelming. And unless you have friends who are hardcore skaters, it's unlikely that you're familiar with how they're different or what they all do. While it might seem longboards and skateboards are pretty similar, they actually have pretty different purposes. Before you go out and buy a board, use this guide to determine what you should be looking for.
Skateboards
While there is almost an endless number of skateboard shapes, there are a few key similarities between them all that keep skateboards within the same class. Most importantly, the size of the board is much smaller. The average skateboard is only about 29-32 inches long, and although trends are leaning toward wider boards, most skaters ride a board between eight and nine inches wide. Skateboard wheels are also smaller and harder, typically between 50 and 55 millimeters in diameter. This small size is better for speed and makes the board lighter for trick skating.
Longboards
While skateboards are meant for speed, that's not always the intention for longboards. While some tricks are possible on a longboard, they're more commonly used for casual cruising, which is where their broad size and large wheels come in handy. Unlike skateboards, the typical longboard is between 35 and 60 inches in length and can be as wide as 10 inches. The wheels are also much softer to give them a better grip on rough surfaces.
The Bottom Line
When it comes down to it, deciding whether you want a skateboard or longboard is simply a matter of how you plan on using it. Skateboards are far more versatile and portable. If you want to learn tricks on your board, this will be your best bet. But if smooth cruising is more your style, a longboard is going to be more stable and comfortable, especially if you've never stepped foot on a board before.
One final note: while longboards and skateboards to differ pretty drastically, both boards can be adjusted and customized to meet your style. For example, transition skateboarders often use wider skateboards with slightly larger wheels. Size, also, may simply depend on the height of the skater. While these differences are good guidelines for buying your first board, skate what you're comfortable with and adjust as you need to.