Scuba Diving Hacks to Make Your Next Dive Trip Easier
Scuba Diving Hacks to Make Your Next Dive Trip Easier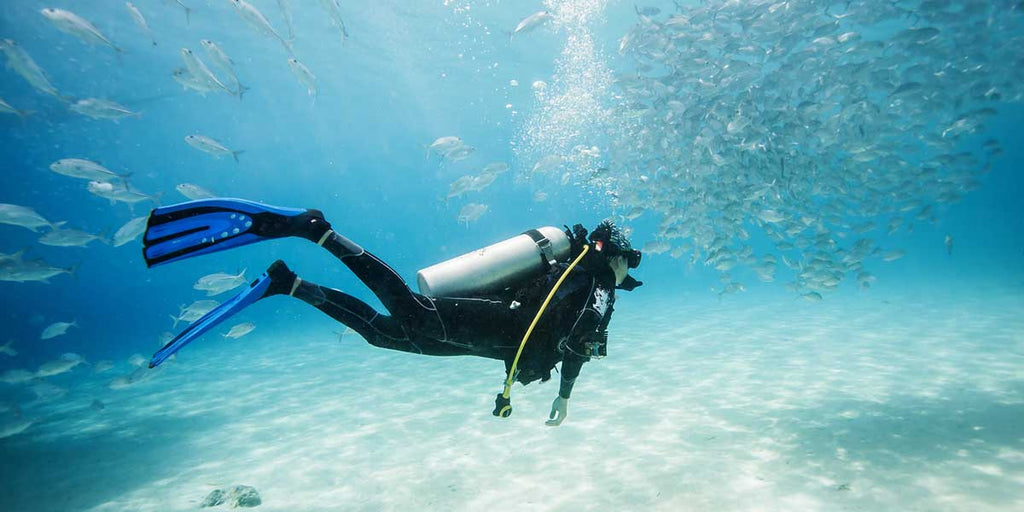 Scuba diving is a pretty technical sport, and although we don't usually recommend taking shortcuts, there are a few tips and tricks we've learned that can make your dive trip just a little easier. From gearing up to exploring the ocean floor — this is our comprehensive list of all the best tips and tricks for scuba divers.
Put plastic bags on your hands and feet before you don your wetsuit. This one's especially helpful if your wetsuit is still a little damp from yesterday's dive (don't forget to securely store the plastic bags to keep them from littering the ocean!).
Or grab the baby oil. Not keen on bringing plastic bags to the beach? Use baby oil as a silicone lubricant to get into your wetsuit.
Use leftover wax to lubricate your zipper. Wetsuits are pretty fragile. Lubricating your zipper can keep it from ripping your wetsuit. Use candle stubs or any wax household item to keep it slick.
Use baby shampoo to defog your mask. Water it down with water into a 50/50 mixture and rub a few drops inside the lens before your dive. Bonus: it can also double as a wetsuit lubricant!
Don't have baby shampoo? Use toothpaste. Squirt a pea sized amount inside the lens and scrub it gently with your finger. Make sure to rinse it thoroughly before your dive!
Use bungee cords to streamline. Instead of having your extra accessories dangling from a clip, get a couple of double hooked bungee cords and use them to secure smaller gear to your thigh or arm for less drag.
Wear woolen gloves. Forgot your dive gloves at home? Wool can insulate you even when completely soaked, so they're a great option as a last minute backup.
Buy just a mouthpiece. If you don't own your own regulator, buy just a mouthpiece so you still feel comfortable using the rental.
Give your equipment the cold shoulder. Major altitude changes can cause problems for some camera housings and dive lights. If you're having trouble opening them, toss them into an ice cooler for 15 minutes.
Soak your BCD. Give your BC a quick dip in the water before setting up your tank for a more secure setup.
Don't forget your car wax. Coat your dive knife with it to prevent it from rusting.
Use a mask strap cover. If you have long hair, a strap cover gets rid of that constant tugging.
Don't make eye contact. When you're trying to get closer to marine life, keep it in your periphery rather than staring directly at it.
Get personal with the wildlife. If you get the chance, go on one dive to just focus on a single species. The more time you spend with them, the easier it will be to predict their behavior and get incredible photos!
Layer Up. If you don't have dive pockets or clips, wear swim trunks with pockets over your wetsuit to carry smaller accessories.
Pack the conditioner. Bring a reusable travel bottle with conditioner to run through your hair after a dive.
Don't forget the seasoning! You read that right. According to Margo Peyton, co-owner of Family Dive Vacations and Kids Sea Camp, McCormick sea salt seasoning helps get rid of jellyfish and fire coral stings.
Utilize your wedding band. If you wear a metal ring, use it as a backup signaling device by banging on your tank.
Remove O-rings without tools. If you don't have an O-ring remover, turn off the cylinder and purge the regulator to about 500 to 700 psi. Undo the yoke strew and you'll hear a pop — the O-ring should fall right out.
That magic eraser really is Cut up a magic eraser and store it in a BCD pocket. You can use it underwater to clean your writing slate.