Make a Splash at the Holidays - 7 Fun Gifts for Watersports Fans
Make a Splash at the Holidays - 7 Fun Gifts for Watersports Fans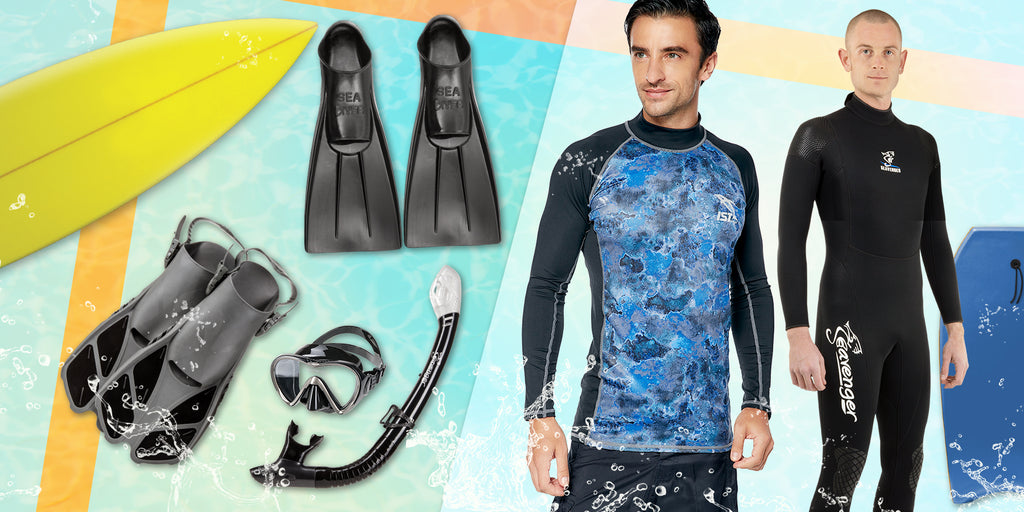 The hustle and bustle of the holidays are in full swing now. Like many people, you have a long list of gifts you need to buy for family and friends. Choosing the right gift can add a lot of stress to the holidays. The feeling can be overwhelming. You're probably wishing it was already summer. Don't worry, the good news is selecting gifts doesn't have to be so hard.
Do you have a friend who loves surfing? Or a relative who spends a lot of time snorkeling? Does your neighbor always talk about their scuba diving adventures? If so, your holiday shopping just got a whole lot easier. There are plenty of great gifts you can buy for people who love watersports. The best part is these gifts won't break your wallet.
Snorkeling Sets
You can never go wrong buying someone a snorkeling set for the holidays. Most people love having spare snorkeling gear around to lend to friends and family on trips, or if their own equipment fails or gets lost. It's a great gift for both adults and kids because anyone who loves the ocean has tried snorkeling at one time or another. All you really need is a good snorkel, mask, and fins. Make sure to get a snorkeling set that includes a single window mask with tempered glass lens and an easily adjustable strap, along with easy-kicking trek fins. The snorkel should have a one-way purge valve and full flex, comfortable mouthpiece. Snorkeling sets usually come with a convenient mesh bag for easy storage. This is definitely a gift that everyone will love.
Wetsuits
A solid, well-made wetsuit is a great gift for watersports lovers. You can get a full body suit for people who love surfing or scuba diving, or get a short suit for people who like snorkeling or shallow diving. Make sure to purchase wetsuits made from quality fabric such as Nylon II neoprene with 2.5mm to 5mm in thickness. Versatile and long-lasting, wetsuits are used for many different watersports, so the possibilities are endless. This gift will keep your family and friends warm all year long.
Fins
You can never have too many fins. Anyone who loves watersports would appreciate a solid, well-made pair of fins. You can choose open-heeled trek fins with an adjustable strap or full-fitted closed heel fins in various sizes. Closed heel fins are used in warm water and usually don't require socks or booties, while open heel fins are typically worn with dive booties. You can choose between small, medium, large, or extra small and large sizes. Fins are a great gift because there are multiple uses for them, such as snorkeling, bodyboarding, swimming, diving, body surfing, and more.
Watersports apparel
Everyone who loves watersports needs the right apparel. Some great gift choices include rash guards, dive suits, skins, footwear, or even fun shirts and hats with ocean or diving motifs. The most practical gift you could buy is something they can wear underwater, such as rash guards or dive suits. Some people use skins or rash guards underneath their wetsuits for added warm and protection. Remember to buy items made from lightweight, stretchy spandex for a comfortable fit. Look for a suit with side panels that offer the maximum range of motion and flexibility.
Bodyboards
Visit any beach during the summer and you'll see tons of people having fun on bodyboards and boogie boards. Some people eventually change to full-size surfboards, but others develop a lifelong love of bodyboarding. There's nothing quite like riding the perfect wave. Much less expensive than surfboards, this fun gift will give your family and friends hours of enjoyment, year after year. For a personal touch, get them a bodyboard with a cool design or logo from their favorite sports team, musical band, or vacation spot.
Pool Rafts
Summer barbeques and pool parties wouldn't be the same without rafts floating around. Gone are the days of simple colors and rectangular shapes. Today's pool rafts come in all sorts of creative shapes and designs, such as animals, cartoon characters, and marine life. You can buy rafts that look like everything from flamingos to a slice of pizza. Kids really love clear bottom rafts so they can see underneath. Rafts are a holiday gift that brings a smile to people's faces and evokes happy memories of summer fun.
Surfboards
If you want to splurge, you could give someone a brand new surfboard. There are endless colors, shapes, themes, designs, and sizes these days, but anyone who surfs can always use another board. Since there are so many variations of width and length, it's probably better to give your loved one a gift card to their favorite surf shop and let them pick out their own.
Holiday gift-giving is easy when you know what to buy. Watersports can become a lifelong hobby (or even obsession!) for some people. Buying someone a gift representing their favorite pastime is always a winning idea. Imagine the look on their faces when you give them something they can use over and over again all year long. Once your shopping is done, remember to sit back and enjoy the season.