4 Office Lunches to Get You Out of Your Recipe Rut
4 Office Lunches to Get You Out of Your Recipe Rut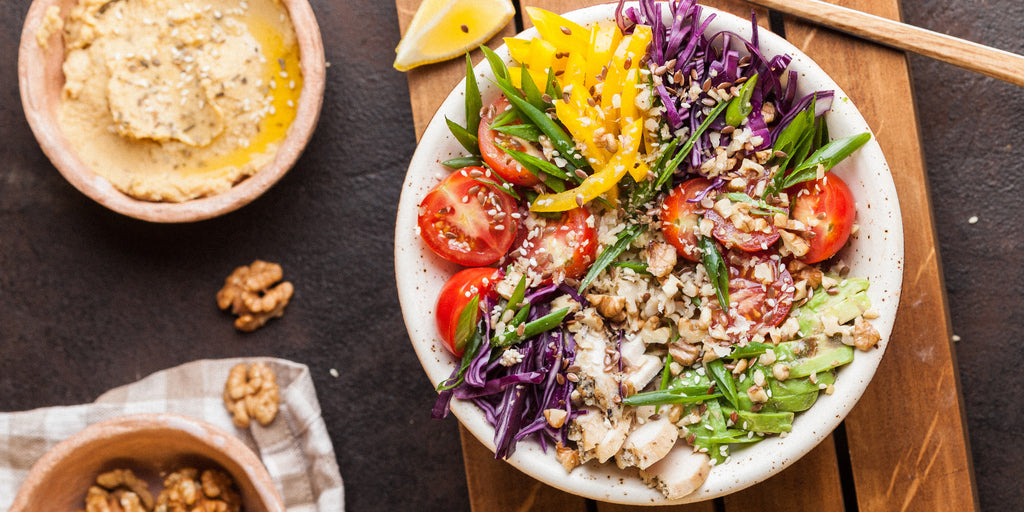 If you work in any kind of office setting, you know the lunchtime struggle. Not only are all of your coworkers eyeballing your lunchbox, judging your taste in food, but it's so easy to get stuck in the same meal routine over and over again. After a while, sandwiches and spaghetti leftovers start to get pretty old. To help you out of your recipe rut, we've put together a list of our favorite office-friendly lunches. They're healthy, tasty and totally easy to make.
Chicken Broccoli Bowl
Our favorite part of this recipe is how versatile it is. Cook the chicken however you want, throw in whatever veggies sound good, add a little garlic pepper and you've got a week's worth of meals ready to go. If you're really crunched for time, opt for buying a rotisserie chicken instead of cooking it up yourself. It saves a ton of time and it's deliciously savory!
Ingredients
1 pre-cooked rotisserie chicken
White rice, cooked according to instructions
2 medium heads of broccoli (or any vegetable of your choice)
Directions
Break down the rotisserie chicken while it's still warm.
Cook rice according to instructions.
Place broccoli on a baking sheet and lightly drizzle with olive oil. Sprinkle with garlic pepper and roast at 400° F for 15 minutes or until broccoli begins to crisp golden on top.
Throw a little bit of chicken, broccoli and rice into individual food storage containers for easy grab-and-go lunches all week long.
Cucumber Corn Salad
Need something new in your salad routine? Try this cucumber corn salad that won't leave you hungry. With plenty of adaptability and a blend of ingredients that's filling and under 300 calories, it's a great twist on your go-to boring bowl of lettuce.
Ingredients
1 English cucumber
1 ¼ c. corn
1 can black beans
1 cup cherry tomatoes
1 avocado
2 limes
½ c. packed fresh cilantro
1 red bell pepper
Directions
Cube the cucumber, bell pepper and avocado. Finely chop the cilantro.
Place all ingredients except the limes into a bowl and toss until mixed well. Drizzle the lime juice of one lime over the salad and mix again (this gives a summery citrus taste and keeps the avocado from browning!).
Separate into individual containers and drizzle a little more lime juice over each one for freshness.
Curry Chicken Mix
For a bigger burst of flavor than your typical lunch, this is a great choice for leftovers that are just as good reheated as they are straight from the pan. With plenty of veggies and a tasty curry sauce with a powerful kick, your coworkers will be totally jealous.
Ingredients
2 chicken breasts, cubed
8 oz. water chestnuts
2 large carrots, sliced and halved
1 yellow onion, diced
1 yellow bell pepper, diced
1 green bell pepper, diced
1 15 oz. can curry sauce (we like Patak's Tikka Masala Curry Cooking Sauce, but any one will do!)
2 c. white rice
Approximately 2 tbsp. olive oil
Salt and pepper, to taste
Directions
Cook rice according to instructions on the bag.
Place the chicken in a medium skillet with a little bit of olive oil. Sprinkle with salt and pepper and cook until meat is white all the way through.
While the chicken cooks, place the carrots with a little bit of olive oil and cover with lid. Cook for 4-5 minutes, stirring periodically.
Place the water chestnuts, onion, and bell peppers in the pan with the carrots and cook until slightly transparent.
When the chicken is done cooking, transfer it into the pan with the vegetables and pour the curry sauce over the top. Mix everything together and add salt and pepper to taste.
In each individual lunch container, place rice first and pour curry sauce over the top. Re-heat in the microwave for a delicious lunch the next day!
DIY Lunchable
If you're trying to cut down on calories, this is the perfect option. Most of the time, high fat content comes from dressings, sauces and condiments. Instead of cooking something up, make a meal by putting together your own grown-up version of a Lunchable. Here's a few options for snacky foods you can throw into a sectioned Tupperware container and go!
Whole grain crackers
Pita bread
Tortilla chips
Cherry tomatoes
Grapes
Carrots
Mini bell peppers
Mini cucumbers
Olives
Salami (or any other sliced deli meat)
Cheese slices or a cheese stick
It's so easy to get caught up in the busyness of your morning routine and make lunch your last priority. But with a little foresight and some inspiration, you can add plenty of pizzazz to your day with unique flavors and delicious ingredients.
What's your favorite office lunch recipe? Let us know in the comments below!