10 Ways to Curb Your Wanderlust (When You're Stuck at Home)
10 Ways to Curb Your Wanderlust (When You're Stuck at Home)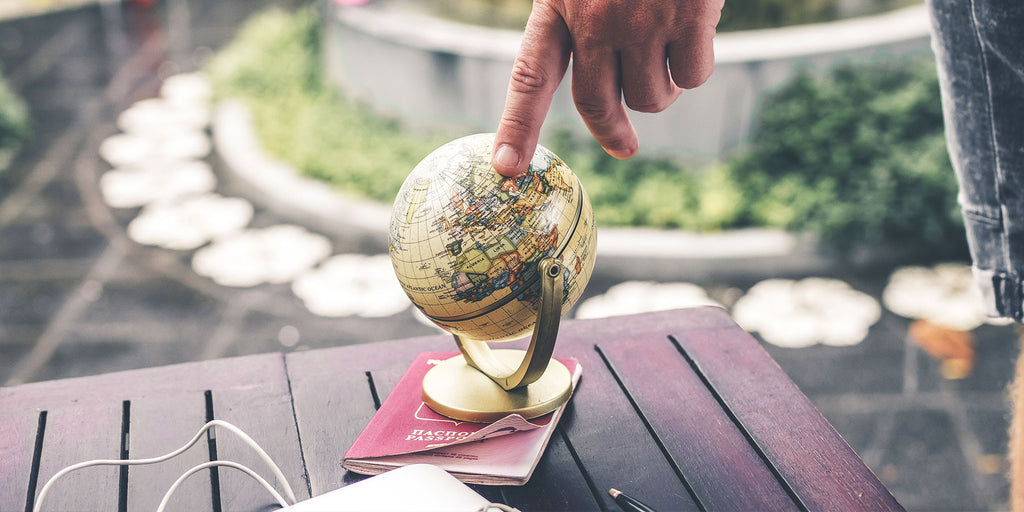 It happens to the best of us — whether you're sitting at your desk dreaming of tropical islands or cramming for a test when you'd rather be boarding a plane, wanderlust gets to us all. Luckily, in the age of the internet, there are plenty of tools at our disposal to treat the travel bug without emptying our wallets. If itchy feet have got you down, try these 10 tips for curbing your wanderlust.
Become a Tourist at Home
If you're near a city, it's likely that there are plenty of quirky spots that tourists come to see in your town. Whether you're home to the world's biggest pumpkin or the site of a historical event, it's worth looking into the things and places that draw those tourists in. Instead of sticking to the places you know, try planning a weekend in which you visit the local tourist spots. This refreshing look at your hometown may be exactly what you need to get out of your everyday routine.
Read a Good Book
Reading a story that takes place in your dream destination is a great way to immerse yourself in the culture without spending your vacation time. Sure, you could watch Netflix too, but the act of reading envelops you in the setting in a completely different way than a screen does. You can't check your phone, play with your dog or talk to your friends while you're watching a television show.
Put Down Your Phone
Often one of the best things about traveling is becoming completely immersed in the world around you, without the distraction of technology. Turn off your phone completely, or (if you're brave enough) leave it at home and find your way around without GPS or Siri. You'll be surprised how much you notice when your screen isn't calling out to you!
Go Camping
Get back in touch with nature by finding a local campsite and packing your bags. Try to cut down on the unnecessary items, and pack as if you were backpacking through Europe. Bring a hammock, your hiking shoes and a good book, then use the time to reflect on your connection to the environment.
Treat Your Taste Buds
Research has shown that taste and smell evoke memories more than any of the other senses. Whether you're looking to revisit an old favorite or try something new, visiting a restaurant that serves international cuisine is a great way to experience that culture without forking over your paycheck.
Take Local Transportation
Instead of using your own car, try taking the train or city bus for a change in pace. Not only does it get you out of your normal routine, but it also takes you a different route. You're likely to see parts of the city you've never seen before and meet people that are outside of your own circle. This simple change of pace can be just what you need to get a small taste of adventure.
Watch a Foreign Film
Getting acquainted with the arts of a people group is a great way to learn about their values and culture. Attend a film festival nearby or visit your local library to find a film that originates from the country you're dying to go to. If you're somewhat familiar with the language, you can even turn off the subtitles for a more engrossing experience.
Take a Staycation
If fancy hotels and luxurious spas are your ideas of travel, then booking a stay at a local hotel may be the perfect way to get your fill. Spend the weekend unplugged from your phone and enjoying the pampering at a hotel in your city. As an added bonus, ask the concierge for a recommendation of where to eat instead of going somewhere you know of.
Host Other Travelers
It's easier than ever today to get in touch with other travelers coming to your city. Airbnb and Couchsurfing are both great options to host others who are looking for a place to stay or just to connect with locals. Simply spending time with people whose cultures are different from your own is an incredible way to feel like you're traveling.
Get Outside of Your Comfort Zone
Culture doesn't just pertain to nationality. Sports, arts and hobbies all come with their own language and values that outsiders aren't used to. Attend an event that you wouldn't normally be interested in, like a baseball game, book club or community event. You'll learn something new and get to know people who can offer you more than your normal circle of friends.